Hi everybody
So far I don't know, if the body works, but I am happy that a Kodak DCS200ci is on the way to me. I have downloaded the Windows TWAIN-Driver and installed a Photoshop 2.5 LE. The TWAIN is recognized!
Starting Photoshop and the Import-function the TWAIN can't find a DCS200 of course, but I could load a DCS200-file! IF I HAD ONE!
And that's my question:
Is there someone in the Vintage DSLR Forum who could mail me two or three genuine DCS200-files? Just for testing my Windows 98/Photoshop 2.5 LE/Kodak DCS200 TWAIN Set-up.
Thank You Very Much
Ralf
C O N T I N U A T I O N !
I was able to locate Ross A. in Australia, who mailed two KodakDCS200 *.KC2-files. It works perfect with my described Windows 98 Set-up. Now I'm praying for a working DCS200 on her way to me!
The *.KC2-files can easily be opened/converted with DCRAW (for Windows/Ubuntu Linux) and UFRaw, component (Plug-in) of GIMP 2.8.4 for OS X 10/11
I've got my working(!!!) Kodak DCS200ci! Complete with software, including a Mac OS 7/8/9 Photoshop Plug-in
Before I will write my big Kodak DCS200 report – that will last "some" time –, I like to present an "Andy Warhol" found on the DCS200's hard disk I got these days! Do you remember Andy's "Campbell's Soup Cans" (
https://en.wikipedia.org/wiki/Campbell%27s_Soup_Cans
) ?
Forgotten on the Kodak DCS200's hard disk...
More to come about the working DCS200!
Ralf
IT IS GOING ON!
My only chance, getting a (distorted) 21 mm wideanle-lens, putting the 2,8/8 mm Fisheye Nikkor to my DCS200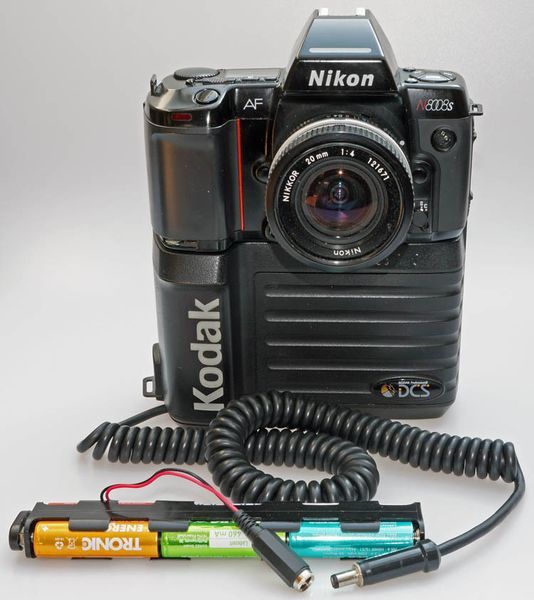 Maybe one of the previous owners wasn't satisfied with the life of 6 1.2V AA-size batteries. He soldered a spiral cable to the contacts of the DCS200 standard battery holder to be connected with an external battery-pack higher capacity. I had been content with a simple holder from the electronics store, receiving 6 1.2V NiMH AA-size batteries. A working provisional solution, enough for the DCS200-practical test.
The ugly smudged 3.5" diskette hid the most important treasure for me! There I discovered the DCS200-Photoshop plug-in for Mac OS 7,8,9!
To be continued!