So far ist was no problem for me to replace the almost dead batteries/the block of a Kodak DCS4xx. Please have a look at the foto, my solution. OK, you have to open the DCS4xx body to load the 1,2 V Eneloopes separately, but I can live with that!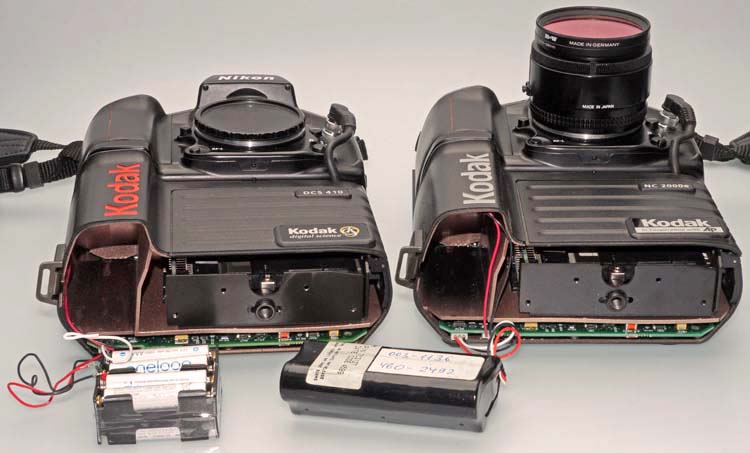 Now I have a question about the DCS5xx/6xx/7xx batteries
I tried the Search-function but could not find, what I am looking for. Please check this foto:
I am not sure if the charger is genuine Kodak, but it works. But in my opinion it was for the old NiCd/Ni-MH-batteries, especially the condition function. I can remember the problems with the old cells, bringing them back to life with a 9V battery.
I can load my fresh Li-ion batteries with this device, but how long should I load? I have no idea if the red, green, yellow LEDs work propper.
Any suggestions? Welcome every help! Thank You very much
My own experience
Power tips for Kodak DCS 600/700-series cameras on this site wrote:
"The original Kodak Professional Premium Plus battery is labeled 7.2 V, and according to Kodak "a fully charged Ni-MH battery should have a voltage between 8.2 to 8.7 V." (The rating on a pack is the 'nominal' voltage. That means, charge it up and let it sit for a day and then measure it."
My first experience with those
hints for Ni-MH-batteries
. Using the moderne
7,2 V Li-ion battery
I started with 7,3 V with a Li-ion, left in the Kodak DCS620x. It needs 3 hours to bring the Li-ion battery from 7,3 to 8,7 V. Leaving that charged Li-ion one day out of camera (!), shows 8,3 V. After these 3 hours there is no sign of green LED... I think it works only with Ni-MH-batteries...
Ralf
From 7,3 V to 8,7 V 3 h charge